Larger volumes of cattle track stone now available
Hills supplies various aggregate and mineral products to the agricultural industry and now has larger volumes of cattle track stone, used by farmers to construct tracks for livestock.
This material is an oolitic limestone perfect for creating a non-slip surface for cattle and dairy cows to walk on across land on farms and from pasture to parlour.
For dairy farms, the UK's Food Standards Agency requires farmers to "keep fields, tracks and gateways well maintained and free from accumulations of dung, slurry and mud".
Hills' cattle track stone is a sound product for constructing and maintaining track surfaces on agricultural premises and is available now from Hills Quarry Products for collection or delivery.
Please contact our sales team for more information by completing an online contact form here or calling 01793 714999.
The wide range of other products we provide to the agricultural industry can be seen here
Sources:
UK Food Standards Agency – A Practical Guide for Milk Producers, The Food Safety and Hygiene (England) Regulations 2013
ADHB – Healthy Feet, Cow tracks publication, Agriculture and Horticulture Development Board 2017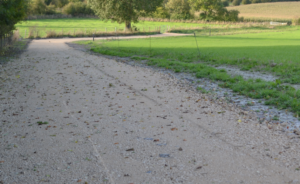 Back to eNewsletter