Decorative flints and gravels are not only aesthetically pleasing, but when used with the right membrane can keep weeds down and allow areas of free draining in gardens which might be prone to flooding.
Hills Quarry Products supplies a wide range of aggregates for garden projects from its quarry sites in Gloucestershire, Wiltshire, Oxfordshire, Hampshire and Dorset. From Cotswold Path Gravel, attractive flints and gravels to limestone, sand and ready-mixed concrete, Hills Quarry Products can provide the most suitable products for your garden improvements.
Take a look here and submit an enquiry form, call our sales team on 01793 714999 or email info@hills-group.co.uk with your concrete or aggregate requirements and we will endeavour to help you.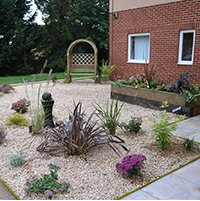 Back to eNewsletter