Muckaway & Haulage
Hills Quarry Products operates a comprehensive muckaway and site clearance service for customers across central and southern England.
As part of The Hills Group of companies, that includes one of the region's leading waste disposal and recycling operators, Hills Quarry Products has access to a network of fully licensed disposal sites for hazardous, inert and non-hazardous waste and is well-placed to meet its customers' duty of care responsibilities.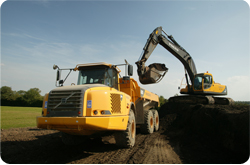 Whatever the material or it's classification, from house builders with a site to clear to developers looking to dispose of contaminated soil, Hills has the right facility for your disposal needs, and ensures your legal responsibilities are met.
Click here to download our waste acceptance form.
Haulage
A registered carrier, Hills Quarry Products has an extensive vehicle fleet, featuring the latest technology, which is strategically located to provide a high quality service to customers across central and southern England.
With vehicles ranging from four-wheeled mixers to 29-tonne articulated tippers, Hills Quarry Products is able to deliver aggregates, concrete, screed and site clearance services to projects of all sizes.




For more information or to book one of our services add to enquiry below or call us on 01793 714 999.
Conditions of business
Application for credit
View my enquiry

Calculate how much ready-mixed concrete you need with our concrete calculator