A collaboration with Wiltshire Grab Hire has seen land at Shorncote Quarry repurposed for recycled aggregate to be sold.
Land at Hills Quarry Products' site, which is located in the Cotswold Water Park, is leased to Wiltshire Grab Hire to bring in product collected from inert sites (such as construction or demolition sites) for it all to be sorted and segregated into size and type of material to be sold on to customers.
Peter Andrew, Group Director – Hills Quarry Products said: "This is a perfect collaboration for us and Wiltshire Grab Hire. The recycling area provides a great solution for the public wanting to have spoil removed from their sites, arranging for Wiltshire Grab Hire to collect. The material is sorted and customers who want to purchase recycled aggregate from us are able to do so. The process helps to support the circular economy."
Our working relationship with Wiltshire Grab Hire continues to expand with them recently taking a three year lease of commercial land at Purton Industrial Estate owned by Hills and locating their offices and a vehicle depot at the site.
Ben Avenell, Managing Director – Wiltshire Grab Hire said: "We are really pleased to be working together with Hills. Thanks to Hills Quarry Products we have been able to build this part of our business and it is proving successful so far."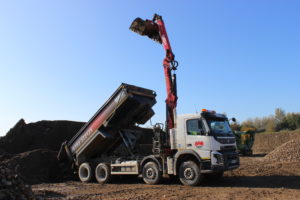 Unloading material from a customer's site.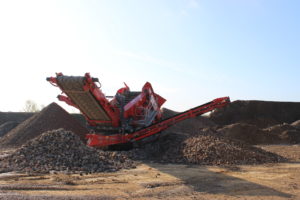 Sorting and separating the material.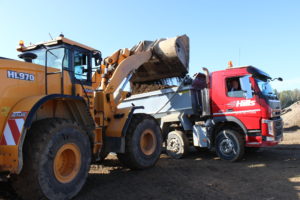 Loading reusable topsoil for delivery to another customer.
Back to eNewsletter