The team at Hills' Rail Depot has experienced their busiest three months, supplying limestone products to customers, since the site opened in May 2018.
Located just a few miles south west of Swindon, our Rail Depot is located one mile out of Royal Wootton Bassett town centre at a siding of the railway line and allows for the following products to be collected or delivered.
• 0-4mm Limestone Sand
• 40mm scalpings
• 4-10mm and 10-20mm Single Sized Limestone
• Class 6F5 limestone
• MOT type 1.
Aggregate Industries delivers the above limestone products via rail from Torr Quarry in the Mendips to Hills' Rail Depot site.
Peter Andrew, Group Director – Quarry Products said: "July, August and September were record breaking months as the Rail Depot transported its highest volumes of aggregate since Hills took over the site three years ago."
"As well as supplying many customers and a number of aggregate bagging plants and builders merchants across Wiltshire, we use some of the above limestone products to supply our own ready-mixed concrete business which has also seen an increase in sales."
"Typically around 100 customers per month use the Rail Depot, ranging from one off orders through to supplies being provided over a longer timeline. Order volumes vary from one vehicle load for small projects to some customers buying nearly a thousand loads per month. 80% of the volume currently being sold is delivered to customers by Hills' own transport team."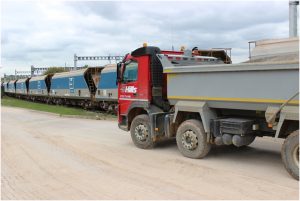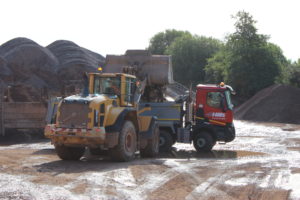 Back to eNewsletter